Realizing the best downsizing in the world!
The UNX-100S is a compact type nitrogen gas generating equipment for manual operation.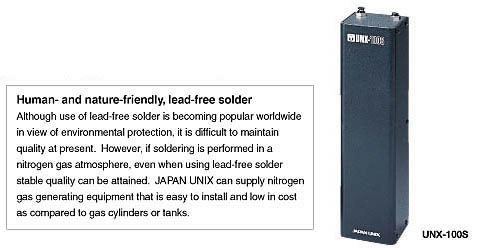 To Nitrogen Gas Generator Outline



FEATURES
Acceptable flow rate
The equipment is capable of supplying nitrogen gas to satisfy the operation of up to two soldering irons. This ultra-compact sized equipment provides an acceptable rate of flow.
Space-saving and low price
The UNX-100S does not require a large space for installation as compared to gas cylinders or tanks. Ultra lightweight and small-sized equipment allows you to carry it around easily and smoothly. Moving it is simple and installation is feasible at a low cost. Reduction in running cost is also possible.
No need for power source
Connecting a compressed air (4-7 kg/cm2) pipe is all that you need to do. No power supply is required.
Long and continuous operation is possible.
Since gas cylinders are not required, downtime arising from checking for residual gas in cylinders or for replacement of gas cylinders is eliminated. You can comfortably run the UNX-100S 24 hours a day.
Maintenance-free equipment
The equipment does not require maintenance since it is not equipped with any electric component or driving unit. It does not produce noise or dust while running.
APPLICATIONS
Prevents oxidation of the solder at the time of soldering operations
Blowing of N2 at the time of heat treatment or metal work
Blowing of N2 into pipes
Blowing of N2 into tanks containing combustibles
Seals chemicals, cosmetics, food, etc., for the prevention of oxidation
For explosion-proof seals, replacement of N2 gas cylinders or laser beam machines
For plastic forming or for cleaning equipment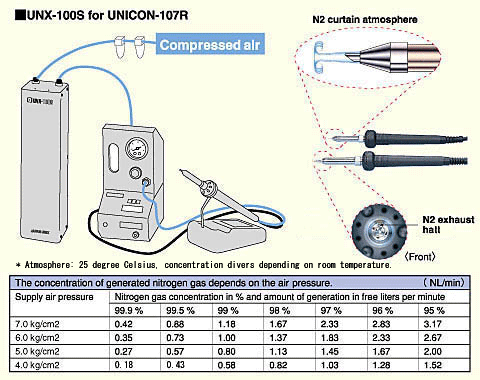 * Nitrogen gas generation capacity: The concentration of generated nitrogen gas depends on the air pressure


Catalog Download